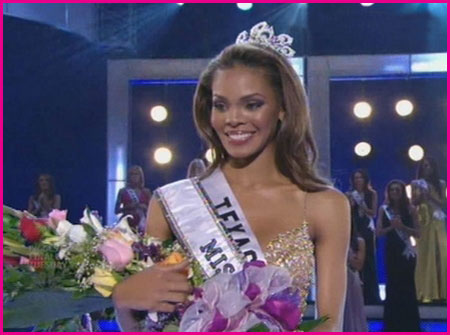 26-year old Crystle Stewart took home the jewels last night at the 57th annual Miss USA pageant.
The professional model also owns her own business, 'Inside/Out' which helps boost young women's self esteem.
This year's pageant went off without a hitch, and without any big flubs like last year's final question with Miss South Carolina, Caitlin Upton.
Judges included Heather Mills, Rob Schneider, Joey Fatone, Kristian Alfonso, Amanda Beard, Christian Siriano, Shawn "Lights Out" Merriman, Ken Paves, Kelly Carlson, Robert Earl, and George Wayne.
Also in the competition was Chace Crawford's sister, Candice Crawford representing Missouri in the pageant. She made it to the Top 10, but did not advance to the next round.
Honorable mention goes to Miss Oklahoma Lindsey Jo Harrington. That girl had one fierce walk!