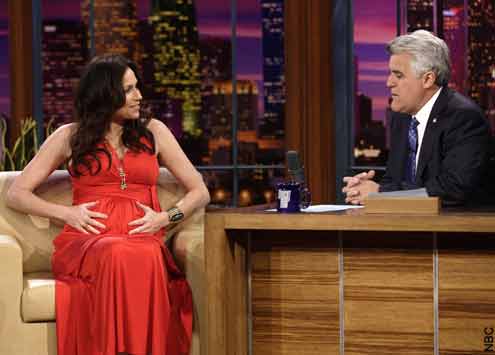 After months of reports that Minnie Driver is expecting, The Riches star finally announced her pregnancy on the talk show circuit yesterday. Talk show host Jay Leno let the cat out the bag on The Tonight Show Thursday night when he remarked teasingly that the actress had gained weight.
"Are you calling me fat?" she joked.
When Jay asked if she was pregnant, Minnie, 38, replied, "Yes I am." Still no word on the identity of the lucky father-to-be. The actress told him that she loves being pregnant "more than anything else," but is not so much liking the morning sickness.
She added: "I don't know why they call it morning sickness. I am sick morning, noon and night, but it's a fair trade-off."
Minnie also let Ellen DeGeneres get her hands on her baby bump in an episode set to air Monday.