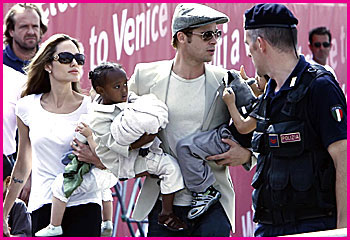 George  Clooney says seeing close friend Brad Pitt become a father and be with his children has reminded him why he doesn't want his own offspring.
The Leatherheads actor – who is dating former cocktail waitress Sarah Larson – revealed spending time with Pitt and his four children with partner Angelina Jolie makes him "nervous".
He said: "Even one kid running around my villa makes me nervous, so I'm definitely not a candidate for father of the year!
"If I need to surround myself with children and feel like I have this big extended family, I can always call Brad and Angie and ask them to stay with me, just to remind me why I'm so happy without."
Clooney, 46, also said he is unlikely to invite the celebrity couple to stay in his villa on Italy's Lake Como this summer because he doesn't have the room to accommodate their ever-expanding brood.
He added to Britain's Heat magazine: "I really don't have enough space for all their children. Also, Brad and Angelina need a security deal of about 20 guys wearing dark suits and carrying walkie-talkies, and that tends to attract attention."
Pitt and Jolie – who is reportedly pregnant with twins – have three adopted children, three-year-old daughter Zahara, six-year-old son Maddox and son Pax, four. They also have a 22-month-old biological daughter Shiloh.