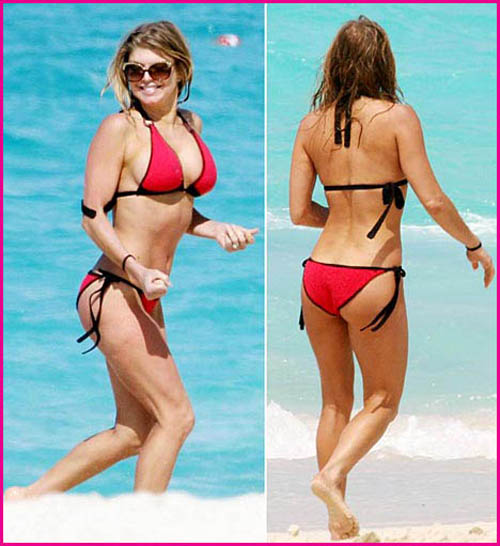 After a hectic performing schedule and months of fending off pregnancy rumours, pop star Fergie took time out for a spot of rest, relaxation and romance in the Bahamas over the weekend.
The Duchess showed of her toned – and bump-free – body in a tiny red string bikini as she took to the surf with her actor fiancé Josh Duhamel.
The pair spent time riding the waves on jet skis, kite boarding and sunbathing ahead of Fergie's performance at the Atlantis resort.
The persistent rumours she's expecting a child, she joked earlier this month, "just mean that I need to get back to the gym."
And judging by her incredibly slender physique, she's stayed true to her word.
Still, the 32-year-old, real name Stacy Ferguson, has been candid about her plans to take time out from her career.
The star has said: "I've been touring for a long time, and I want to go home this summer and spend time with my family and get in the studio and just take some time to think about everything."
Fergie and Josh, who have been together since 2004 and got engaged in December, are expected to marry this year.