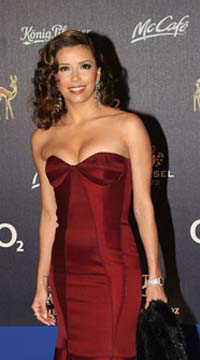 Over the last few months there's been a neverending run of baby rumours surrounding Eva Longoria, mainly due to some shots of her with a distinctly round-looking stomach.
Now, Eva has decided to come clean about the rumors and has revealed that her bump is all thanks to…Victoria Beckham.
"Victoria gave me a couple of pairs [of jeans] and I love them," says Eva.
"They were so tight, my gut was hanging over the top before dinner," Eva said.
"Then, we came out of the restaurant and I was totally bloated. And now, apparently I have a baby bump!"
OK, Eva blames Posh Spice for the pregnancy rumors…but who will she blame for this???