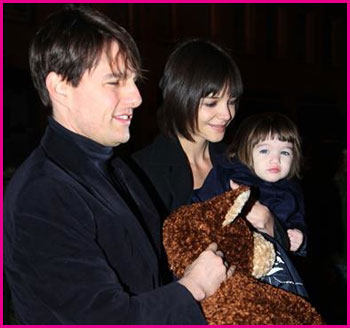 Apparently all of
Katie Holmes
' recent naughty behavior has prompted loving husband
Tom Cruise
to reprimand her with a punishment that's slightly more severe than asking her to not only wash the dishes but dry them, too. After eating too little with bad influence
Victoria Beckham
and daring to consider a promising role on
Broadway
later this year, Cruise decided to step up her
Scientology
training with a fun-filled three-day vacation to
Gold Base
. And
Canyon Ranch
it is not. Gold Base is reportedly an isolated Scientology facility where "boot camps" are held. And as Star reports, yoga classes and colonics were not part of Katie's activities:
"It included various tests, confession sessions, tons of reading and physically challenging purification processes"...a series of intensive auditing sessions, some which have lasted for 36 hours straight — with little sleep or food."
While Tom hasn't exactly been sending us postcards regarding Katie's conversion and all the progress she's made over the years, we'd always assumed she'd been hooked up to a lie-detecting e-meter for a session or two by now. But apparently those fun interrogations hadn't yet been thoroughly completed (are they ever?). The only issue we have with Star's report has to do, of course, with this "purification" obsession and the alleged 36-hour periods spent without food. Wasn't Katie's dieting tactic one of the reasons Tom became so upset with her in the first place? Apparently splitting meals is far more harmful than that whole Knights Of Hubbard detox plan Kirstie Alley would simply die without following.