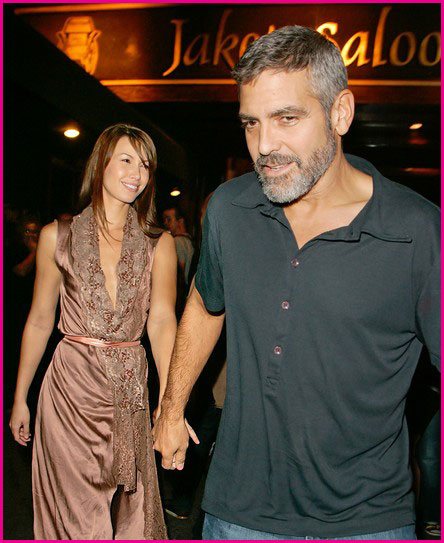 George Clooney's girlfriend Sarah Larson, who Clooney got in a motorcycle crash with last summer and who he recently defended from a rude caller, opened up to the Las Vegas Review Journal about how she met the movie star.
It was long before the much-reported "Ocean's Thirteen" premiere during CineVegas last June at the Palms, said Larson, in her first lengthy interview since their relationship got serious.
"It was on his birthday three or four years ago at Whiskey at Green Valley Ranch," she said. Clooney was with some friends, including Whiskey owner Rande Gerber, "and I was with some friends.
"We were all dancing, taking pictures, being silly," she said. Larson, who worked as a cocktail server at Whiskey, was dating someone else at the time.
Last June, when Clooney came to town for the "Ocean's" premiere, "he heard I was working at Moon," made contact at the nightclub, and "we hung out," she said. A month later, he invited her to go to Italy…
She and Clooney, who turns 47 on May 6, are heading for Italy soon, a trip that could help expand her modeling career in Europe.
"We'll be in Como, which isn't that far from Milano," she said, dropping a big hint after appearing in a fashion show that featured Emilio Pucci's spring collection at the Four Seasons Hotel.
Clooney has been supportive of her new career, she said. "Your boyfriend better be. If they aren't, you gotta kick 'em in the butt and walk away."
Here's more on Sarah Larson's recent modeling gig. The pair also attended the Oscars together and continue to hang out with Gerber and wife Cindy Crawford.